Christensen Family of Denmark and W. Canada

Last update of page: 21 August 2019.


In the family tree and in the texts below, bolded names are individuals that are covered on this web page. Hyperlinked names lead to other chapters of this site.


Christen Hansen, b. ? --- m. --- Johanne Christensdatter, b. ca. 1822

|

Tinus Christensen, b. 1867 --- m. --- Ane Lassen b.1869

|

John Barclay, b. 1901 --- m. --- Gudrun Christensen

|

William Graham, b. 1929 -- m. ---Margaret Barclay

|

Douglas J. Graham, b. 1959 --- m. --- France Marcoux

|

Camille and Stéphanie Graham


Notes on the Family Names
Under the traditional Danish system of family names children formed their last name based on the first name of their father. Thus, a daughter of a Christen Larsen would be Christendatter and a son would be Christensen. This was the tradition until about 1860/70 when a law in Denmark forbade this practice and required that all children should use the surname of the father (6).

There is great confusion in our family records as to the use of "Christensen" or "Kristensen". We can probably conclude that the spelling was pretty arbitrary and depended on the whim of census takers or other official records keepers or of the persons concerned. The most common spelling is definitely Christensen.

Census records are variable for the twelve children of Christen Larsen/Lassen and Grethe Elsie. In the Census of 1860, the first two children appear as Christensen. In the census of 1870, all five children appear as Christensen and in the census of 1880 all nine children are listed as Christensen. However, in the 1890 Census, the four children still at home are all listed as Kristensen (Ane, 20 years, Jens Peder (Kirsten Simonsen's Grandfather) 13 years, Semine 11 years, and Kristjan (sic) 9 years). Also included in the 1890 census is the farm Manager, 22 year old Tinus Kristensen (6) even though Tinus was baptized as Christensen (see text below on Tinus).

According to information in the section "Laurids Thomasen" (6), of the 12 children of Christen and Grethe Elsie Larsen, the first five (Thomine, Maren, Ane, Lassen, and Hansine) are baptized as Christensen. The sixth child (a second Ane, the first one having died young) and the next 6 children (Tomas, Ottine, Jens Peter, Semine, Kristian, and Mathias) are all listed as Kristensen.

The children of Tinus and Ane Christensen were all baptized Christensen except for Anna the last child who was recorded (8) as Kristensen (as were her parents). Gudrun's passport however, issued in 1928, records her as Kristensen. As adults, most of the children used Christensen, some used Kristensen and one used Nørgaard (1, 2, 8). Nørgaard was given as a second name to most of the children (1). Henry, the oldest child, was baptized Christensen, but was named Kristensen in his death notice 23 years later (8)!


Christen Hansen, b. ca 1820


Tinus's parents were
Christen Hansen
and
Johanne Christensdatter
(6). Christen is noted as
a farmer on birth certificate of his son Tinus.
His mother was 45 years old when he was born, so b. about 1822. Johanne died in 1873 when her son Tinus was six and his father remarried a woman who had previous children.

We have no further information on them or on Tinus's ancestors.

Tinus Christensen, b. 1867, and Siblings


Likely incomplete, we know of four or five siblings of Tinus.

The Marie who cared for Tinus was presumably an elder sister of Tinus.

1) Tinus' oldest sister was named Mine, b. 7 June 1863, d. 26 March 1939, m. Niels Kiil, b. 24 November 1840, d. 22 March 1907 (the dates for both from the graveyard in Bindslev (13). We have information on a few other Kiil which we presume are related to Mine Kiil. We have a photocopy of the death notice (no date) of Peter Kiil ("Farmer Peter Kiil, Barkholt i Vendsyssel, 63 years of age; they waited for him Xmas eve and then they found him in the henhouse, where death had overtaken him"), but its not clear how he fits in. (8) Also from the graveyard in Bindslev, we found "Martin Kiil, b. 20 November 1888, d. 16 February 1911." Kristian Kiil lived in Sindal and managed the family (?) farm called Odden in Mygdal. One of Mine's grandsons, was Jorgen Kiil, b. 1931, who became a well known actor in Copenhagen. There was a small magazine article written about him, with a photograph, on the occasion of his 50th birthday, which he spent in hospital. The article is with the family pictures of Margaret Graham (13).

2) As noted in the section below on Tinus, as a youngster he was looked after by an older sister Marie (1). One of Marie's sons was visited by Gudrun and John Barclay in 1966, in a home for the elderly at Sindal. This son, apparently a "rich unscrupulous trader" in his younger days, apparently looked, as an older man, exactly like his uncle Tinus (1).

3 & 4) Two of Tinus' brothers emigrated to the United States, sometime just before 1895. One brother was called Hans (8). It is believed that they lived in Nebraska. For the first few years that they were away, a magazine would regularly arrive for Tinus from the States (1). Eventually that contact was lost. We have not yet been able to trace either of these brothers.


5) Tinus Christensen.
According to his birth certificate, of which we have a photocopy, Tinus was born 17 October 1867 in Odden Mark (it means the fields near the manor of Odden), Marle, Mygdal Sogn (County). The birth certificate is dated 19 October 1926 so was issued when he was about 59. He was baptized on 8 December 1867 in the Mygdal Church (6). When his mother died in 1873 when he was six, his father remarried a woman who had previous children. The stepmother was mean to Tinus and so he left home quite early and was brought up by his sister Marie (1).

The census of 1890 shows Tinus Kristensen [sic] working as the farm manager at Bindslev (6), the farm of Christen Lassen. On 17 March 1893, at the age of 24, Christen's daughter Ane Lassen (see further details on her and on her ancestors in the
Lassen
chapter) married Tinus. He was then 22 years old and Ane was 20. Therefore they had known each other for at least three years before they married. This marriage to the farm manager apparently was frowned upon by the Lassen family (1). We now know however, that in fact Tinus had already had an illegitimate son, born 11 March 1888 (see a section below) and so perhaps that is why he was frowned upon by the family? One of their wedding gifts, a small blue, hand-blown glass jug with white painting on it, is now in the possession of Margaret Graham (13). They had twelve children over the next 20 years (see following section for further information on their children).


Ane was interested in music. She used to sing and play a little table harp that lay flat on the table. She would often go to Viborg to see a concert and was an avid reader of books. She was the educator of the family, both in academic subjects and for social and cultural skills. Having come from a well-to-do family, she had to adapt to living with very limited means, in a small isolated farming community. She was a survivor and managed her large family as best as she could with few resources. She loved her husband deeply and always had her faith in God and the Bible to carry her through. Generally, she was an "average" wife of the time - as her daughter Gudrun said, "she knitted, cooked, cleaned, had babies, and killed the pigs" (1).

At various times when he was a young man and before he married, Tinus worked as a stoker on a boat between Denmark and England and in a pig abbatoir at Frederikshaven. According to his daughter Gudrun, as a young man "he was full of the devil" and also indulged in a little poaching on the side (1).

After their marriage, Tinus and Ane lived for a short while at or near Ravheden, presumably on her parents' farm, where their first son, Henry, was born, in September 1894. In about 1895 they decided to follow Tinus' brothers to America. They arrived at the docks, having sold most of their possessions and having packed for a long voyage. They had to undergo medical examinations and it was then discovered that Ane had scabies and she was not allowed to board the ship. At this point Tinus disappeared at a run, leaving Ane sitting at an office on the docks, with one year old baby. Ane was devastated as she thought that he had left on the boat without her. He had actually rushed away to get their ticket money returned (8)!

Tinus then became a hunter for a Duke (Ahlefeldt-Laurvig) at Holbæk on Sjælland. They were there for about seven years, during which time four additional children were born. They then moved to Sparkær district, near the city of Viborg, Jutland, about 1902, and bought a small house and farm in Bakkely just outside the village of Sparkær (8). The first child born in Bakkely was Gudrun, in 1902, followed by the rest of their children (1). This was a small holding and these were properties that the Government offered to encourage people to move to Sparkær. A large peat factory had been built there and they needed people to dig the peat. The properties were small and people could not live off the land and they had to go and dig peat in the summer, and in the winter they worked making bricks out of the peat. Tinus had to walk four kilometers early in the morning to get to the peat and he did not come home until late at night. This meant that Ane had to do all the farm work as well as looking after numerous children. When they moved to Sparkær, Tinus also worked in gardens and in a carpentry shop (8).

They sold the house in Bakkely 1932 and moved to a house in the nearby town of Sparkær. That house was inherited by Ingelise Nygaard, granddaughter of Ane and Tinus. Ingelise and her husband Kaj have both retired and are living in the house (13) (Margaret Graham has pictures of the little house in Bakkely and of the Sparkær house, taken on a 1984 visit with Gudrun). In March 1953, Ane and Tinus celebrated their Diamond (60th) wedding anniversary. The festivities were attended by Gudrun and Margaret Barclay (the latter's first visit with her Danish grandparents). Tinus died on 17 June 1955, perhaps of cancer; he had been bedridden for the last few months of his life (8).
Ane knitted a pair of socks for her great-granddaughter Janice, born in 1956. They remain in Janice's possession.
Ane died on 18 May 1959 of pneumonia. We have photocopies of her death notice and that of Tinus. They are both buried in the churchyard at Sparkær (8).


In addition to appearing in the family photo below, the following photo of Tinus and One was taken in July 1934 in Sparkaer.



Tinus Christensen's First Son

Before entering into the account of the children of Tinus and Ane, we can first relate the fascinating story of Tinus' illegitimate child, another Tinus Christensen. If any of his half-siblings, such as my grandmother Gudrun, ever knew about the younger Tinus Christensen, it was never ever mentioned or recorded anywhere!

In 2004 I was contacted by George Christensen (18) who suspected he was also descended from Tinus Christensen. After further investigation and research, primarily by George and my mother, the following information has been put together. George's grandfather, Tinus Christensen, was born in Tvertsted, Denmark on March 11, 1888 and named after his father, Tinus Christensen, a plantation foreman at Bindslev. His father and mother, Lise Larsen, were not allowed to marry by her parents. The younger Tinus was raised by his mother and her parents. He, his mother, and his grandmother moved to Iowa in 1905 after his grandfather died. Lise ran a boarding house in Scranton, IA.

The son Tinus Christensen Jr. married a Hanson. Regarding her name, George writes: "her sisters used Hanson. Her oldest brother used Hansen. Sometimes her father used Hansen and sometimes he used Hanson. I noticed that on her marriage certificate my grandmother added a middle initial of M.".

Gudrun Christensen, b. 1902, and her Siblings
The Christensen family of Tinus and Ane is bracketed by the first-born Henry, who died when he was 23, and Anna, who spent most of her life at home caring for her parents. See note above under "Note on the Family Names" for further information on surnames of these children. Unless otherwise noted below, the information below on Gudrun and her siblings comes directly from Gudrun (1).


The picture below is of the Christensen family from about late 1943 (based on the fact that Hugo, the small boy in front, was born in Dec. 1941; he is Edel's son). Gudrun and Kaj are missing as they are already in Canada. The top row from left to right are Sigrid, Oscar Nielsen (Dagmar's husband), Anna Nielsen (Oscar's second wife), Anna, Martin, Ingeborg, Harald, Jenny, and Edel. Bottom row: Rita (Dagmar's daughter), Gurli and Sonya (Edel's daughters), Ana and Tinus Christensen, Ingelise (Dagmar's daughter from her first marriage), Ellen Margrete and Gerda (Dagmar's daughters), and Dagny (Edel's daughter).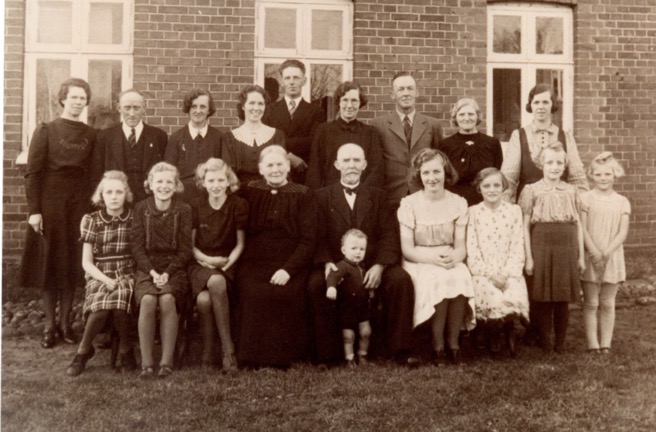 Their twelve children were the following:


1) Henry N., b. 2 September 1894, in the Bindslev area (Sigrid's family book (12) records 7 September for Henry but 2 September for Harald; probably dates were transcribed). Henry was the first born and therefore every effort was made to educate him. He was very devoted to God and trained as a missionary. He was well educated, spoke French fluently, and played the violin. At Christmas in 1915, he caught a debilitating cold and during the following year while he was in Copenhagen studying, he contracted tuberculosis. In August 1916, he was sent to a sanitorium; he died at home in Sparkaer on 19 May 1917, aged 23. This was a terrible blow to his mother Ane who never came to terms with his death; his memory was subsequently revered in the family (1). At the time of his death he was engaged to be married to a nurse, Anna Petersen, and they were designated to go out to an African Mission. We have a photocopy of his death notice; his name appears as Henry Nørgaard Kristensen (8). See photo below.

Henry was the first one to be buried in the Sparkær churchyard. It is a large graveyard and Dagny, Tinus, Ane, Anna, Ingeborg, Martin, Sigrid and Ingelise's daughter, Annette, are all buried there (8).

.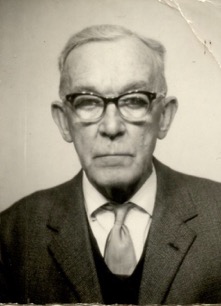 2) Harald N. Christensen, b. 7 September 1895, at Holbæk. He was a "rough and ready youth", as described by his sister Gudrun (1). When 16 or 17 he left home and went to sea and was not heard from for years. He finally returned to Denmark, settled down, and married Jenny on 5 May 1917. When first married they lived at Grindsted where he worked in a peat factory. Then they moved to Esbjerg and finally to Copenhagen. He had a greengrocery store during the war. (Janice Madill has the brass scales that he used in his store). After the war he started working in a factory that made electric cables. He became a foreman there and worked at the factory until he retired. Jenny also worked at the factory. He died 23 January 1969 of liver cancer (8). He may be buried in the churchyard at Bispebjerg, Copenhagen (10). See
.a photo of Harald above.

Jenny lived by herself in a senior's apartment after his death. She travelled to Canada on her own, not speaking any English, and never having flown before, to visit John and Gudrun. It was the experience of a lifetime for her. She was a very gentle, caring, and generous lady (13). The last few years before she died she lived in a nursing home. She died 24 November 1981 (8). She is also buried in Bispebjerg. They had three children:

1. Henry Christensen b. 20 February 1918. He died 19 November 1979 (10).

2. Edith, b. 1922. She died on 11 August 1967.

3. Aage, b. about 1925.


3) Sigfred N., born in May 1897. He died in infancy, as a result of tetanus from the midwife, according to Sigrid's family book (12).


4) Sigrid N., b. 16 July 1898 in Sparkaer. She never married. At the age of 20 she entered a school of nursing but developed tuberculosis and was forced to abandon her studies and enter a sanatorium. She was able to recover completely from the disease and she re-entered nursing at the age of 28. She became supervisor of an infectious diseases ward and later became a self-taught radiologist at the hospital in Ringköbing, Jutland. As a young woman she also was very involved with the Salvation Army. She loved to play the banjo. She came to Canada in about 1949 to look after Gudrun's nursing home while the latter went on a visit to Denmark. Sigrid was in Canada for one year and then she returned to Ringköbing. See photo below.

After retiring, she kept house for her brother Martin on his farm in Hammel and assisted him financially. She was very involved financially in the care of her parents, even on a nurse's salary. She was unable to be home to care for them but she contributed greatly. She also supported Anna. Eventually she moved to the Sparkaer family home and shared it with Anna who was living there on her own after the death of their parents. After Anna died she shared the home with sister Ingeborg who had also retired. She continued to live there for a few years after the death of Ingeborg. She developed severe rheumatoid arthritis and eventually became wheelchair bound. She fought the disease every step of the way and refused to go into hospital or to give up her independence until absolutely forced to do so. She was a very strong, independent, and very generous person. She retired from nursing at age 65.

Ingelise (Sigrid's niece) and her husband Kaj Nygård accompanied Sigrid, who was wheelchair-bound, on a return trip to Canada about 1975. In April 1984 Margaret Graham and Gudrun visited Sigrid. She died November 7 1984, alone in the house (although critically ill she refused to go into hospital or to have anyone stay with her). She is buried in the churchyard in Sparkær. We have a copy of her death notice and an obituary.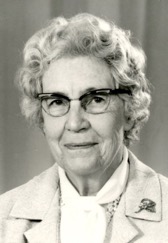 5) Ingeborg Nørgaard, b. 10 November 1900 in Sparkaer. She was a "sickly child" (1). Although she never married, she was engaged at one time to a male nurse, who apparently turned out to be a homosexual. For most of her working life she was the Matron-in-Charge of the laundry and housekeeping at a huge institution for the mentally ill near Vejle. She played the organ and was a good singer. After she retired she lived in Grenaa for several years but eventually went to live with Sigrid in Sparkær. The Graham family visited the two of them there in July 1976. She died of a heart attack on 12 December 1976. We have a photocopy of her death notice. She is buried in the churchyard at Sparkær. See photo above.


6)
Gudrun N. Christensen
, born in Sparkær, on 29 November 1902 (her birth certificate says 28 November, as does Sigrid's family book (12) and her 1928 passport, but her mother said it was the 29th and that was the date Gudrun used). After high school, she went to a large home economics school in Hoptrup. There she met Aage Kure of Rinne, Bornholm, who was probably studying bookkeeping. She became engaged to him and went to work at Rinne on the island of Bornholm to be near his family. She worked as a domestic in that area for one and a half years (some of this information here is from a diary of Gudrun's). She later worked near Silkeborg as a cook in a nursing home and at Finderup. Aage emigrated to Redvers, Saskatchewan to be a farmer (although he was trained as a bookkeeper) and sent a ticket for his fiancee to join him in Canada.


Below is a photo of Gudrun from her 1928 passport.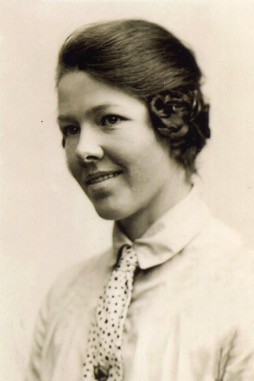 She left on August 22 1928, on the ship the Oscar II, following in the footsteps of her younger brother Kaj who had emigrated to Canada the year before. She arrived in Halifax on September 1 1928. After travelling from Halifax on the train she arrived in Winnipeg with only $28 to her name. She was put in the immigrants' hotel where her money was promptly stolen. As she couldn't speak English, she could not tell anyone what the problem was but eventually someone recognized that she was Danish and took her to the Danish Immigrants' Home. Her cousin Elna Thomsen was also staying there. Her money was never recovered. While learning English, she got a job working as a cook in a restaurant. She also worked as a maid at a private house at 72 Inkster Blvd., Winnipeg. Aage, meanwhile, had not met her at the train when she initially arrived and he had made only one brief visit to Winnipeg, sometime in November 1928. Gudrun by then was "hopping mad" at him.

At that time, the centre of social activity for the Danish community in Winnipeg was the Danish Immigrants' Home on Fountain Street. They entertained themselves with singing and playing instruments. Gudrun had a lovely soprano voice and there she met John Barclay who was a very good violinist. Gudrun's brother Kaj was in Calgary so she went out there in early December 1928. She was especially happy to go there as she had heard that John was going too. John Barclay had gone out to Calgary just before her and before long, the engagement with Aage was broken off and she became engaged to John. When Aage heard, he promptly came to Calgary, in December 1928. He was furious, threatened to kill Gudrun and even physically assaulted her. John Barclay and friends cooled him off under a cold water tap and then ran him out of town. Aage married another Danish girl, they divorced, and he later married a Catholic francophone in Montréal.

Gudrun married John
Barclay Estrup
, 20 May 1929, in Pastor Knudsen's home in Calgary. The Lutheran Calgary Danes had a Minister but as yet they had not built their new church on Tenth Ave. N.W., later to be called Sharon Lutheran Church. They had two children, Anna Margaret Barclay Estrup, b. December 19 1929, and Paul Barclay Estrup, b. February 13 1931. See Barclay/Estrups chapter for more details on her husband, their married life, and on their children.

Gudrun first worked at Dana, the Danish Community Centre. In about May 1930, they moved into the Wellington Apartments on 25 Ave. S.W., Elbow Park (the building no longer exists) where they worked as caretakers in return for free rent. They lived there for three or four years during the worst of the Depression. They really worked hard for free rent and were also taken advantage of by the landlord. John did all the painting and fixing and Gudrun did all the common area cleaning. One woman in the apartments, trying to take advantage of a young immigrant, told Gudrun that she had to also clean her apartment. Fortunately Mrs. Small, their next door neighbour, explained to Gudrun that that was not part of her duties! The Smalls were important friends and like grandparents to Margaret and Paul; see a separate essay on them written by Margaret Graham.

Throughout the hungry thirties, she did domestic work by the hour and also washed and ironed uniforms for the Scottish Nursing Home (20 cents each). She did not then know about the prairie dust storms. One hit Calgary just after she had hung all the freshly washed (by hand) uniforms on the line. It was a terrible happening. She had to start all over again and re-wash the filthy uniforms. It was a story she told many times.

They moved to 1618 11th Ave S.W. from the Wellington Apartments and rented the main floor of the house for a few years. They bought their first home, in Sunnyside at 736 1st Ave N.W., in 1938. During this time as well as being very involved in Church work she also worked one day a week, Fridays, housecleaing for eight hours for the Seymour family. It was a large three bedroom duplex and she cleaned it from top to bottom and then did the week's ironing at the end of the day. She was paid $2.50 for the day. Gudrun became a Canadian citizen on April 18 1939 (20).

In 1945 they bought a nursing home in Sunalta on 1811 12th Ave. S.W. for $9000. Gudrun had taken a nursing course by correspondence from the Chicago School of Nursing. She nursed and cared for the elderly and the very ill in her high-quality nursing home. Nursing homes were not licensed then and many "homes" were apalling places so the Barclay's home was a welcome exception. The nursing home specialized in the "Koch Treatment" for cancer. She had nine patients initially but later as many as 22. The Barclays lived at the nursing home. It was sold in 1950 for $22,000.

In 1948 Gudrun traveled to Denmark for her first visit since emigrating to Canada in 1928. Starting in 1950, they built Barclay's Motel at 5307 Macleod Trail and operated it from 1950 to 1962. It was one of the better known motels in Calgary at that time. Their son Paul also worked at the motel for several years. In 1958 they visited their daughter and family in Nairobi, Kenya, and also visited Denmark. After the motel was sold, they built a new house at 27 Selkirk Drive S.W. Both Gudrun and John worked during their retirement. In the summer of 1963 she and John worked for the Alberta Government providing tourist information services at St. Mary's, Montana. She also worked as a chauffeur for the late Judge McLaurin's wife and worked for him as an occasional cook after his wife's death. From 1966 to 1968 she nursed a man at Ogden, five days a week, for 18 months. In December 1965 they again visited Nairobi, after first visiting their son Paul and family in Aberdeen, Scotland.

For 50 or so years the Barclays were intimately involved with Sharon Lutheran Church. Gudrun occupied herself with a hectic social life centred around the Church, friends, family, and her hobbies, notably lapidary handicrafts and stone carving, for which she won several prizes. They celebrated their golden wedding anniversary in 1979. Douglas J. Graham was a frequent visitor to their home in 1981 and 1982 while he attended the University of Calgary. After John's death (October 24 1983) she stayed in Calgary until June 1985, and then moved to Thunder Bay to be near her daughter and son. We have 10 tapes made in 1984 by Bill Graham in which Gudrun talks about her life.


For a few further photos of Gudrun, see the Barclay chapter.


In Thunder Bay, she joined the Lutheran Church and soon had many friends there as well as "the ladies" in the apartment building where she lived (on Walkover St.). She died of a pulmonary thrombo-embolism in Thunder Bay, April 28 1992, aged 89. At the time of her death she was still driving her yellow Datsun car and living on her own in her apartment. The ashes and a headstone for both John and Gudrun are in the Sunset Gardens in Calgary.


7) Dagny N., b. 5 November 1904. Information on her family is from (8). She met Sigurd Kaalund Plovgaard and they had one child, Ingelise (spelling from (8) but Inger-Elise in some other sources). He was born in Ramme near Lemvig. Dagny did not marry Sigurd; he had tuberculosis and wanted to be cured before they married. He never recovered however and died 22 May 1928. He was a gardener in Skive and was a good friend of Oskar Troelsgaard Nielsen whom Dagny later married. Unfortunately, she had also contracted tuberculosis and was never strong again.

She worked as a domestic. She married Oskar Troelsgaard Nielsen on June 2 1929 and they had three girls. He was a gardener, born in Resen near Skive. She died 5 September 1934 of tuberculosis, aged only 29. We have a photocopy of her death notice; her name appears as Dagny Troelsgaard Nielsen. In other sources it is noted as Dagney (8).


Her daughter Ingelise at that time went to live with her grandparents, Ane and Tinus, in Sparkær. Oskar was left alone with three small girls, of 2, 3, and 4 years. He needed to have someone to help him in the house and with the small girls so he hired a housekeeper, Anna Laursen Dahl, born in Rønberg near Skive. He married Anna on 4 November 1937. They had two sons who were both mentally handicapped and died in childhood. Anna died May 8 1957. Oskar lived in a nursing home for last years of his life and died July 21 1969 (8).


The daughter by the first marriage was:
1. Ingelise.

The children of Dagny's second marriage were:

2. Anna Rita (" Rita" ) Troelsgaard Nielsen.
3. Ellen Margrethe T.
4. Gerda T.


8) Edel N., b. 4 May 1906. Information on her family is from (3). She was Edel Nørgaard Kristensen. She married Svend Pedersen, b. 24 March 1906, on 2 February 1930. (Margaret Graham has the base of a lovely old oil lamp that was given to Gudrun by Edel who apparently said that it was a wedding gift from Svend's adoptive parents.) Svend's father was Svend Aage Pedersen. Some documents show it as Petersen but his marriage certificate says Pedersen. He was adopted by Soren (he was a roof thatcher) and Jorgine Mikkelsen. His grandparents on both sides fought in the 1864 war. There are documents from this date, that are in Kurt's possession. Svend was in the Resistance during WWII. At that time they lived in Horne, Jutland.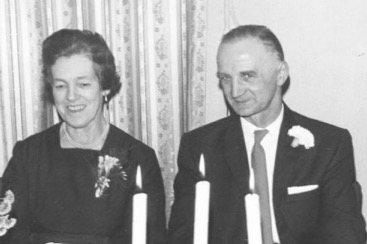 After the war, and after his mother died, they moved into Svend's father's home in Bredsten, near Vejle. He was an electrician. Edel was a wonderful cook and she started working as a caterer in 1967. Edel died December 29 1991; Svend died 21 November 1995. They had six children. More information on their children and their families is in my personal files.

1. Sonja.
2. Gurli.
3. Dagny.
4. Hugo.
5. Kurt.
6. Doris.


9) Kaj N., b. 3 May 1907. Sources for information on Kaj and his family are (1) and (2). Kaj was sent out to work on a neighbour's farm when he was only nine years old. Gudrun has said that her mother just hated to send this little boy out to work but that it was an economic necessity. The people he worked for were not very kind to him and forced him to get up very early and milk the cows, etc. Then he would have to go to school where he would often fall asleep and get into trouble. They furthermore often kept him home from school. Gudrun was working on a nearby farm and she, although only 15 or 16, intervened on Kaj's behalf and told the farmer that it was against the law to work a child like that and that he had to attend school.

Kaj emigrated to Canada in 1927. For the next ten years he had a variety of occupations. He was in Calgary part of the time and worked for John Barclay as a painter. He also did a lot of babysitting for his sister Gudrun, who was working at Dana, the Danish community centre. He would put baby Margaret in the buggy and wheel her up the North Hill to Gudrun who would then breastfeed her. He also claims to be a champion diaper changer. From 1927-1928 he worked on a farm in Saskatchewan between Leslie and Foam Lake near Lannigan, which is straight north of Regina. He and Annie kept in contact with the family for whom he worked. He worked for several years in the foothills west of Calgary as a sheepherder, living year round in a covered wagon. He rode the rails during the Depression years, looking for work. He travelled in the area north of Edmonton and liked the look of the land up there.

While working on a farm near Airdrie, Alberta, he met Annie Watson, b. 12 December 1916 in Youngstown, Alberta, who was also working on the farm. I have further notes on Annie's family in my files (17). This was the farm of her father's cousin, Victor Watson. Kaj was milking cows for $10 a month and Annie was earning $12 a month. They married in 1938 and the first year they spent working on Lauritz Pedersen's dairy farm at Bearspaw near Calgary. They saw an ad in the paper for some land available near Jarvie, north of Edmonton and decided to buy what turned out to be 160 acres of uncleared muskeg. Several years later, another 160 acres came up for sale next to their land. It belonged to someone who was not able to farm it. It had to be cleared a certain amount before it could be sold, so Kaj did the work and was then able to purchase the land more cheaply.

It was a hard life for Annie and Kaj those first years. They single-handedly cleared the land and built a home for their family. Kaj augmented their income by working for the railroad in the winter, for 18 years starting in 1950, and driving school buses, for a further eight years. He bought another 16 acres down by the river and Kaj kept this lot where he built a little hut and where Annie had a garden. He was always the practical joker and stories abound about his, sometimes dangerous, practical jokes on other people. Margaret Graham taped conversations with Kaj and Annie in 1995; these remain to be transcribed for further information. After the farm was sold, they retired to live at Westlock, Alberta. In their retirement, they owned a motorhome and traveled widely through the US and Canada. In August, 1997, there was a Christensen family reunion at Buck Lake, Alberta, to celebrate Kaj's 90th birthday. In May 2002 he celebrated his 95th birthday and was in good health and spirits but almost completely blind. He died March 7 2003. Annie died in Westlock, Alberta on December 29 2012, aged 96; she lived independently until her death.


The photo below is a 1925 photo when Kaj was about 18, before he left Denmark.




Their children (information from (2)) are:

1. Marjorie.
2. Kai.
3. Archer.
4. Gordon.
5. Virginia.


10) Martin Nørgaard Christensen., b. 14 September 1908. He had a job as manager of a large farm in Fyn owned by a lawyer. Martin had a son at this time.

He travelled to Canada with Margaret and Paul Barclay on their return to Canada in 1953. During the time in Canada, he lived with Gudrun and John and worked in a warehouse and as a construction foreman. He returned to Denmark in 1958 with enough money to buy a large farm near Hammel. He owned this prosperous farm for several years and then sold it for 1.3 million Kroner and bought a house in Hammel. He lived in Hammel till his death, from stomach cancer, on 9 August 1978. He never married and left most of his estate to his son. Martin is buried in the churchyard at Sparkær. We have a copy of his death notice and an obituary.


11) Hans N., b. 24 November 1910. As a young man, he traveled to Sweden, finding work in a factory as a mechanic. He returned to Denmark but then left again for Sweden, permanently, in 1947. There he met and in 1954 married Valborg Berntsson, b. October 1 1917. Valborg was married previously for a few years to Pettersson, b. 1899, and already had a son, Jan Erik Pettersson. The husband had died of a heart problem (11). See photo of Hans below.




Hans and Valborg had two sons and two daughters. They lived in Nybegrud-Frykerud. They then had a farm home in Värmland Län, Sweden. His work was in the field of electronics (1).

The family had many visits back and forth to Jutland and to Copenhagen. Martin and Hans were very close to each other and Hans visited Martin just before he died. Hans Jr. worked on Martin's farm when he was 13 or so. Hans' daughter Irena recounted (on a visit to Canada in July 1994) that from the age of 7 she wrote to Aunt Anna and later wrote to Ingeborg and Sigrid. She remembers at least six trips back to Denmark. She remembers meeting "Tante Gudrun" on a very early (1965?) visit to Harald in Copenhagen. When she was about 13, she went to a large banquet given by Sigrid in Jutland for visitors Gudrun Barclay, the Swedish family, and family from Copenhagen (11).

Valborg died July 14 1977. Hans died October 26 1992 of prostate cancer. The children of Hans and Valborg were the following:


1. Henry.
2. Hans, Jr.
3. Gudrun.
4. Irena.



12) Anna Nørgaard Kristensen, b. 28 January 1911. On her birth certificate (8), of which we have a photocopy, her name is Anne Dusine (means "dozen", she being the twelfth child) Kristensen. She was born in Sparkær, Borrits County and baptized 10 March 1912 in Sparkær Church. She went to Arrhus and took a course in dress design and sewing. This school did sewing for the Danish Queen. She was a very clever seamstress. While there she became engaged to marry. As however so often happened to younger daughters, she was asked to go home and look after the ailing and elderly parents. Being a very Christian and caring person, she gave up her career and her fiancée and went home to Sparkær. She sewed dresses for a factory at home and looked after her parents till they died. In 1964 she was in Calgary for a visit with Gudrun and John. She played the organ and according to her sister Gudrun, was "an angel on earth". She died 5 November 1971 of ovarian cancer. She is buried in the churchyard at Sparkær. We have a copy of her death notice (8) where she is recorded as Anne Nørgaard Kristensen.


Sources

The original text on this family for
A Family Reunion
of July 1982, was written by Douglas Graham drawing heavily on information collected from his mother but more so from his grandmother, Gudrun Barclay née Christensen. Some information was also given by Sigrid Christensen to Douglas.

A very complete rewrite and update with much new information was undertaken in late 2001/early 2002 by Margaret Graham (née Barclay Estrup).


Footnotes
(1) Material from Gudrun Barclay. This is based on personal communication with Douglas Graham (recorded in the original
A Family Reunion
of July 1982) and with her daughter Margaret Graham. Additional material is from her written notes (dated 1966) and her diaries.

(2) Pers. comm. with Annie (née Watson) and Kaj Kristensen as well as various communications between Annie and Margaret Graham.
(3) Information on Edel's children is from a letter written by her daughter-in-law, Lillian Pedersen to Margaret Graham in December 1997. Information was also obtained during a visit in October 2000 to Vejle by Douglas, Margaret and Bill Graham. Also subsequent correspondence between Lillian and Margaret Graham.
(4) Information on the Canadian Jensens comes from: an October 19 1997 letter and subsequent correspondence from Torben (Tom) Jensen to Margaret Graham, an essay written by Paul Jensen in 1989 about his grandparents' immigration to Canada, a letter from Elna Jensen with information on Christen Lassen and Thomine Lassen, and letters from Karen Jensen Large (1996).
(5) Letters, maps of the Bindslev area, and other information from Alfred Thomsen in Aalborg, Denmark. Also pers. comm. during a visit to Alfred in October 2000, by Douglas, Margaret and Bill Graham.
(6) Letters, maps, and information printed out from a genealogical software programme (Ancestral Quest) from Torben and Stinne Ejlersen. They also provided copies of family photographs.
(6a) Personal letters from Torben Ejlersen, February 2001.
(7) Notes by William Graham, 1995, after a visit to Canada by the Jansson family.
(8) Material received from Ingelise Nygaard. Includes letters, photocopies of family birth certificates, and obituaries. Help with translation of one of Ingelise's letters was given by Tom Volquardsen of Salt Spring Island, B.C. Information from notes made by Anna Kristensen was also given by Ingelise. Pers. comm. information was obtained during an October 2000 visit to Ingelise by Margaret and Bill Graham.
(9) Pers. comm. information from Kirsten Simonsen during a visit to Bindslev in October, 2000 by Douglas, Margaret, and Bill Graham. Information also comes from letters sent later by Kirsten which included family information and photographs.
(10) Pers. comm. information from Kirsten Sorensen during a visit to Copenhagen in October 2000 by Douglas, Margaret, and Bill Graham. Also information from Kirsten in letters to Margaret Graham.
(11) Pers. comm. from Gudrun and Jan-Ake Jansson during a 1995 visit to the Grahams in Thunder Bay.
(12) Sigrid Nørgaard Christensen's family book transcribed by Margaret Graham during a visit to Sparkær in 1984.
(13) General information collected by Margaret Graham during visits to Denmark and through miscellaneous correspondence with various family members. Also included here are Margaret Graham's personal recollections.
(14) Letters in late 1990s from Gerda T. Nielsen which included names, addresses and occupations regarding her side of the family.
(15) Letters in late 1990s from Dagney Nørgaard Gaarsvig regarding her side of the family.
(16) Letters in late 1990s from Sonja Nørgaard Sorensen regarding her side of the family.
(17) Tracey Watson Disturnal (pers. comm., August 2005), ID-193, a niece of Annie, is working on the Watson family history.

(18) Correspondence with George Christensen [ID-407], starting in 2004 with contacts continuing until now (2019), including visits with my mother.
(19) Baptismal record of Kristian Alfred Kristensen, accessed by M. Graham at a Danish web site, Ancestral Quest.
(20) Naturalization papers of Gudrun Barclay, of which we have a copy.